Cheese was my vegan downfall until I found something better!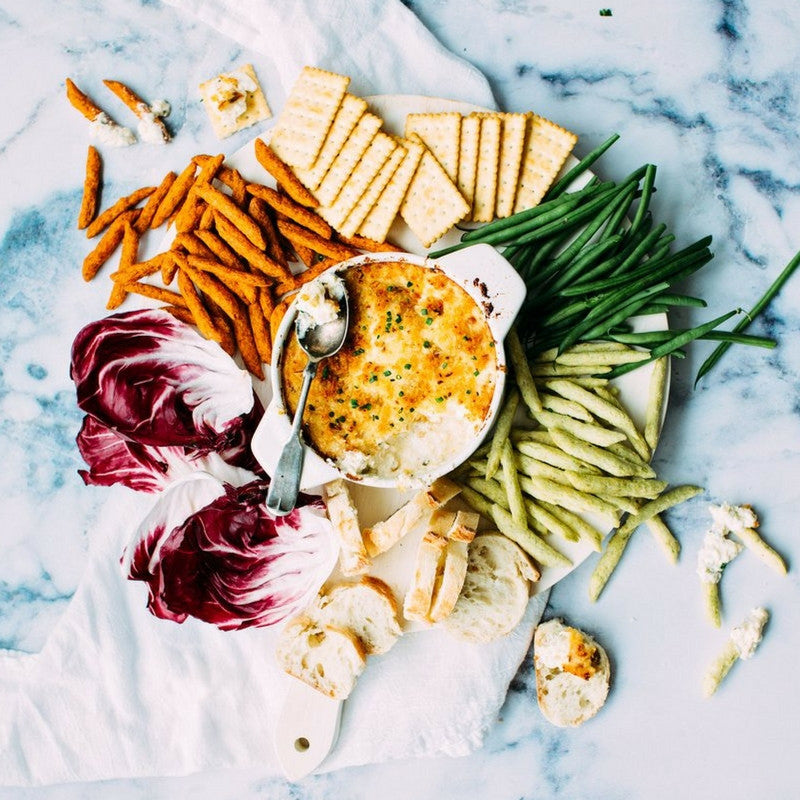 After falling in love with a baby cow at age eleven, I knew not eating meat was the right choice for me. 
I was eleven, riding bikes with a friend while on a summer vacation in Eastern Oregon. We were following a path near fields with grazing cattle, when we spotted a few week/month old calf basking in a sunbeam by the fence. We stopped our bikes and walked over to get a closer look at the cute, fuzzy baby. I remember her eyes were so soft with long lashes. Her coloring was a swirl of burnt sienna, chocolate brown, and cream; so naturally, we named her Caramel. My friend and I stayed and chatted with Caramel for a while, poking small handfuls of grass through the fence for her to munch. We sighed at how beautiful and sweet she was, and how horrible we would feel to eat her. Then it dawned on us, all cows are calves at one time! All meat comes from a living being with feelings, eyelashes, and the love of warm summer sun. We made a pact then and there, "no more meat", and have stuck to it. My friend and her husband are both vegetarian, and my husband and I are both (now) vegan. I think about Caramel the cow and how much she taught me during our brief encounter quite often; I will be forever grateful to her.
When I tell people this story, I often get two questions, so I will answer them for you here. 
1) Question - What kept you from going vegan sooner?
Answer – When I first became vegetarian as a tween in the 90s, I honestly thought it was a completely compassionate way to eat. I pictured my eggs and milk coming from a small farm, with happy animals. After all, they weren't killed to put food on my plate. It seemed very picturesque to my idealistic, young mind.
It wasn't really until college that I became educated about the deplorable living conditions for dairy cows and egg laying chickens. Once I was educated on those factors, I switched my consumption to completely organic and locally produced dairy and eggs at home, and made an effort to support restaurants who did the same, but I still felt guilty. Once I was out of college, I greatly reduced my consumption of organic dairy and eggs, but had a difficult time giving it up completely, because... well, PIZZA. It was a serious internal struggle for me. In all honestly, it wasn't until I was introduced to acceptable vegan cheese alternatives like, Follow Your Heart, Vtopian, Heidi Ho, Daiya, Kite Hill, Treeline Cheese, and Miyoko's that I felt I could break free from my dairy cheese addiction. 
2) Question - What was it that finally made you take the leap from Vegetarian to Vegan?
I had been fighting the internal battle between my love of cheese, and the guilt I felt for contributing to prolonged animal suffering for nearly ten years by the time I made the switch. I logically knew what I was doing, but couldn't let go of a few of my favorite foods. Seriously, my love affair with cheese goes way back. I was probably the only second grader in my elementary school's history to list "white wine and Swiss cheese fondue on french bread" as my favorite food when I was the classroom "star of the week". 
Then, in 2016 I joined a vegan cookbook club after being invited by some friends in Portland. I love to cook, and have acquired a pretty impressive number of vegetarian and vegan cookbooks over the years. Good food, eating, and talking with other people about food and cooking is simply the best! After all, Julia Child said, "People who love food are always the best people", and I wholeheartedly agree! 
At vegan cookbook club, not only did I get to eat ALL THE FOOD, I was privy to wonderful conversation about cooking, ingredients, and general life philosophies. I was also introduced to some of my favorite non-dairy cheeses, as well as some incredible recipes for making my own cheese alternatives at home! Finally, something to satisfy my occasional cheese cravings without involving innocent animals in the process. Done! It was that simple. I had been tiptoeing around the edge of being vegan for so long, it was simply that final push that made it a no brainer. 
A vegan diet not only makes my stomach physically happier when I eat, but it also brought resolution to nearly twenty years of internal conflict between my cravings and my conscience.  Thanks, vegan cheese! 
Save
Save
Save
Save
Save
Save
Save
Save
Jessica Belknap